More than 200 PoDoCo projects have helped companies in renewal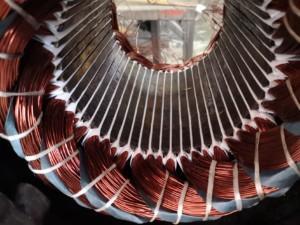 Latest research expertise contributes to the twin transition in industry
13 doctoral-business collaboration projects receive funding in the autumn 2021 application round of the Post Docs in Companies program (PoDoCo®).
"This round of applications highlighted twin transition projects. Companies are interested in developing technologies that make more efficient and environmentally friendly use of resources. With the help of postdocs, companies can utilize the latest information to reduce their carbon footprint," says the PoDoCo program leader Dr. Seppo Tikkanen from DIMECC Ltd.
Altogether 201 postdocs have used their expertise to renewal of companies since the beginning of the PoDoCo program in 2015. The program has received 397 applications for cooperation projects. Of the fully implemented PoDoCo projects, 90 percent have led to the employment of PhD in the partner company.
Four grants to postdocs of LUT University
Lappeenranta-Lahti University of Technology LUT was strongly represented in both the applications and the grants awarded. The companies will be able to utilize the expertise of LUT University's electrical engineering postdocs in four funded PoDoCo projects.
Dmitry Egorov, PhD from the University of Lappeenranta, focuses on the development of electric motors with Danfoss Editron in his PoDoCo collaboration. As power densities increase, more knowledge is needed about the interrelationships between electromagnetism and thermal and structural design.
"The PoDoCo program with Danfoss Editron Oy represents a unique opportunity for me to get intensive training and industry-related experience in comprehensive design of electromechanical conversion systems, which otherwise I would not be able to grasp within my current affiliation or time equivalent to the duration of the program," says Dmitry Egorov.
Recovering rare-earth elements
In his PoDoCo project, Pasi Salonen, a recent PhD from the University of Turku, is developing a method for the treatment and recovery of rare earth elements (REE), especially from electronic scrap and industrial by-products. Rare-earth elements are used in many new solutions to combat climate change, such as wind farms and electric cars, so the demand has increased rapidly.
In the project promoting circular economy, Salonen, together with Weeefiner Ltd in Jyväskylä, is developing 4D-printed filters for capturing metals, which means 3D-printed filters that have been chemically functionalized.
"I have always been interested in the academic research world as well as industry, and PoDoCo combines both. The PoDoCo project involving 4D REE scavengers done in collaboration with Weeefiner Ltd is interesting and meaningful and allows me to utilize the knowledge obtained in my PhD in practice. The PoDoCo program makes academic and industrial careers simultaneously possible," says Pasi Salonen.
Grants to all disciplines
PoDoCo grants have been awarded to all disciplines. Engineering and natural sciences have been the most represented, but companies have also sought out experts in the social sciences and humanities to reform their operations.
Grants worth around one million will be distributed throughout the PoDoCo program in 2022. The funding round takes place twice a year.
PoDoCo program:
The next PoDoCo grant application round takes place March 1 – April 15, 2022.
There are no limitations regarding the branch of science or branch of industry.
PoDoCo program is funded by Finnish Cultural Foundation, Jenny and Antti Wihuri Foundation, Maa- ja vesitekniikan tuki ry, Svenska Kulturfonden, The Society of Swedish Literature in Finland (SLS), Finnish Foundation for Technology Promotion, Maj and Tor Nessling Foundation, Foundation for Economic Education, KAUTE Foundation and The Paulo Foundation. The total funding is up to million euros every year, which enables around 35 PoDoCo grants each year.
| | | |
| --- | --- | --- |
| Hakija | Yritys | Hankkeen nimi |
| Ali Mohammed | Sapotech Oy | Modelling of the microstructures and mechanical properties of thermomechanically processed high strength steels |
| Neisi Neda | ABB | Uncertainty quantification of state-space observer-based methods for diagnostic of multiple faults in the electric motor |
| Markkinen Niko | Measur Oy | Agile testing services for the new food industry |
| Choudhury Tuhin | SpinDrive Oy | Development of Active Magnetic Bearing Identification tool (AMBIT) |
| Salonen Pasi | Weeefiner Oy | SLS 4D-Printed Scavengers for Rare-Earth Element Sequestering |
| Singh Parul | Misvik Biology Oy and Orion Pharma Oy | Ex vivo evaluation of novel antibody-drug conjugate therapies in metastatic melanoma |
| Tetik Müge | Skanska Oy | Decreasing construction waste through industrialized logistics management |
| Egorov Dmitry | Danfoss Editron Oy | Multiphysics Simulation of an Electric Drive |
| Khan Iqra Sadaf | Elisa Corporation | A carbon handprint approach for identifying business growth opportunities in industrial supply chain management processes: Towards sustainable digitalisation |
| Kim Heesoo | Yaskawa Environmental Energy | Development of a simulation model to identify electromagnetic effects on dynamics of electrical drive trains |
| Kumari Kajal | Finnadvance | Development of human olfactory-brain connection-on-chip system |
| Panchal Bhaveshkumar | Valio Ltd. | Characterization and improvement of the mechanical integrity of agglomerated spray-dried dairy ingredients |
| Potenciano Machado Leyter | Elisa Oyj | Early detection of structural anomalies in manufacturing semiconductors: a mathematical inverse problem approach |